E8 Path in Slovakia – Long Distance Hiking Trail in the Carpathians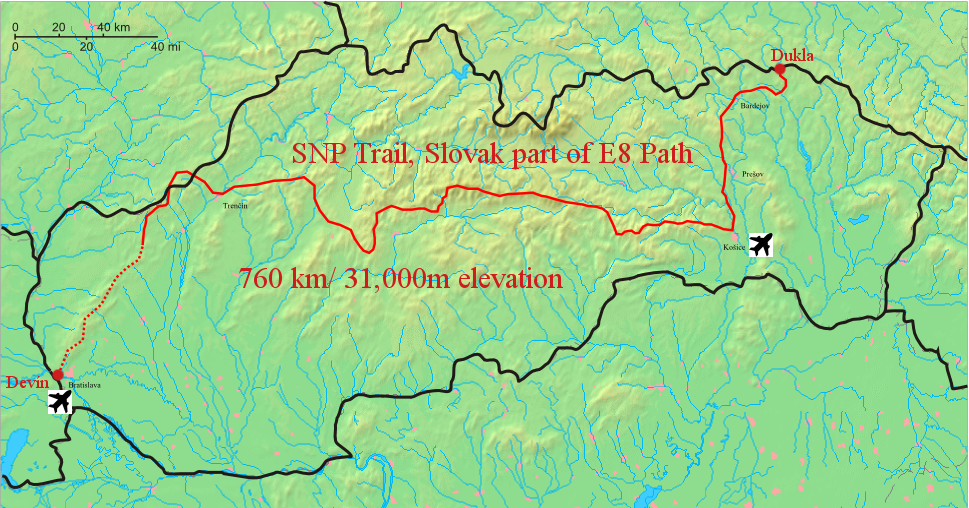 Basic technical information about the trail:
760 km, 31km elevation.
Part of E8 long distance hiking trail (which starts in Cork, Ireland, and ends in Istanbul, Turkey).
Marked in both ways with white-red-white rectangles, you can walk either from Dukla pass, on the north-east of Slovakia, or from Devín Castle near Bratislava.
Average time it takes to cross the entire trail: 25-30 days.
Terrain: 90% footpaths and hiking trails, 10% asphalt.
Highest point: Chopok (2024 m), lowest point: Devín (145m)
Great infrastructure in terms of accommodation/refreshment points on the trail
Information you will find on this website
Welcome trekkers!
On this website you will find description, maps, itinerary, GPS, and other useful information about one of the amazing long distance trails you can walk in Europe, the Path of the Heroes of the Slovak National Uprising (Cesta hrdinov SNP in local language, casual English name "SNP trail"), which is a part of European long distance hiking path called E8.
Principal Sections on the website:
Maps and Stages – I divided the trail to 28 logical stages (always starting and ending at a place with accommodation or camping/bivouac options). You will find a brief description of each stage together with a map in this section (can be expanded online), plus a GPS file for each stage, list of refreshment points and springs along the way.  
Accommodation – A more in-depth list of huts, guest houses, B&B, hotels and camping sites on the path, including information such as price per room, check-in time, dog friendly, phone number, etc.
Travel – How to get the the starting point of the trail. Flight options, train and bus schedule, etc. Plan your way in and out the country…
FAQ – Frequently asked questions about the trail, basically everything you may wonder about before embarking on your journey (best time to walk, permits, walking solo, wild animals, dangers, restrictions related to covid-19 "pandemic", etc).
Equipment – Recommended gear for the trail, basic packing list for download in .PDF.
Language school – Learn some words and phrases that will help you get your message over and get around in shops and hotels or hostels.
About & Contact – Self explanatory :).
Why should I walk this particular long distance trail, and not another one?
That's a good question. I've done many long treks in various parts of the world, and I wouldn't necessarily call one of them best. Nor would I say, for example, that tracking in the Andes for fifty days was better than crossing Spain on a pilgrimage, or enjoying the solitude of high passes in the Himalaya.
Each trek is different, each long walk changes us, and in general it's great to pack the backpack and leave the comfort zone for a while (sometimes for a long while). Anyway, I will try to point out at least few highlights of SNP Trail (the Path of the Heroes of the Slovak National Uprising)
Slovakia is a green oasis of Europe. You'll see a lot of wildlife, you'll always find a spring of fresh water, and you'll enjoy freshness of air second to none.
The trail offers a lot of variety. You'll cross (or venture to) almost twenty mountain ranges on your way, places of different heights, terrain, fauna and flora, different views and feelings. Some of them are very touristic, but some others are completely wild, and you will barely meet anyone on a trail while crossing their trails (except of animals). Cities and small villages make it even more colorful.
The path has a very good infrastructure. Hiking has a long tradition here, and you'll find many wonderful mountain lodges along the way. The trail also passes through villages quite often, so you won't find problems with buying groceries or other stuff. What is more, if you do not mind an occasional bivouac, the entire E8 path in Slovakia can be walked without the tent!
The trail marking is great. The entire trail is marked with white-red-white rectangles, in both directions, and the job is done fairly well (they repaint the marks often, at least on most places). This isn't one of those trails where you spend more time looking at your GPS than looking around you, enjoying the views and nature.
Slovakia is a very safe country. In the global peace index (which ranks countries from safest to the most dangerous), we occupy 23rd place, which is way above Spain, UK, Nepal, or US, just to name some popular travel destinations. You don't need to be worried about your safety on the trail.
Few foreigners walk the trail–do something not everyone does. Except of this website (which I started no earlier than in autumn 2019), you'll find very few information about the SNP trail in English. If you like the role of a pioneer, going to places where not many of your countrymen have gone, if you perhaps like to be the first one from your country to walk certain path, this is the hike to do!
So, these are just few reasons for you to go… Jump ahead and check some stages and maps, or browse other sections of the website to learn more.
See you on the trail!
Matej
Disclaimer
This website is a non-profit project. No ads will disturb your experience, and we do not include affiliate links.
We try to keep the information up to date, correct, and useful for every visitor, however we make no representations or warranties of any kind, express or implied, about the completeness, accuracy, reliability, suitability or availability with respect to the website or the information, services, or related graphics contained on the website for any purpose. In no event will we be liable for any losses or damage including without limitation, indirect or consequential loss or damage, or any loss or damage whatsoever in connection with the use of this website. Thank you for your understanding.